Phone 440-413-2793
AKC Breeder
Obedience Trainer
Veterinary Asst
Corrective Trainer
Pet Groomer
AKC CGC Evaluator
AKC CGC-A Evaluator
AKC Canine Ambassador
---
Registered Clubs
Links
Wind Song Poodles
Northeastern Ohio
At Wind Song Poodles we take pride in

all we do. Frequently visiting Schools,

Nursing Homes, Rehab Centers and many

other facilities offering our knowledge about

the breed, training tips and the

responsibilities of pet ownership.

Puppies are born and raised in our home and

registered with AKC. There are many topics

covered on our web site to help answer all of

your poodle questions. We hope you find our

web site informative and enjoyable

(Visit the Poodle Palace)
Wind Song Breeding Program

We DO NOT cut corners with our breeding program. Our program starts with

complete healthy diet. Expecting moms are monitored and receive ultra-sounds, x-rays

and veterinary care during the pregnancy to assure mom's health is maintained and

avoid complications. Our puppies receive health checks , tail docking,

dewclaw removal and vaccines by a Licensed Veterinarian.

Our Goal is a Healthy Puppy.....Not how many we can make and how cheap we can do it.

When purchasing a puppy always ask the breeder...

"Who cares for the Adults and Puppies?"
PLEASE READ: Study Results Released
Dr. Jean Dodd's considered one of the foremost experts in
pet healthcare and Vaccine Protocols.
1/2 Dose Vaccines for smaller breeds EFFECTIVE
Annual Boosters MAY NOT be necessary
---
PUPPY NEWS
Heidi and Callie both appear to have successful bred.
If they are pregnant litters will be born beginning of March 2017.
Lets keep our fingers crossed
Check back for updates!

MOM: Heidi DAD: Malibu

MOM: Callie DAD: Malibu
Puppy Web Cam
Will return with the birth of the next litter
Why do Puppies sleep so much and the importance of the first 6 months
CHECK OUT THIS VIDEO CLIP

Dakota and Keno's little boy

at 3 Months Old

"LOUIS...Rockin it out with his Trainer"

Special Thanks to Louis owner Lisa for

sharing this Video Clip

I breed for Quality

NOT Quantity
---
NuVet Plus is RECOMMENDED for Puppies and Adults
NuVet Plus is America's premier pet immune system

support supplement incorporating a precise formula of

vitamins, minerals, enzymes, herbs and antioxidants that

perform synergistically to bring together all of the vital

ingredients required to maintain optimal health.

NuVet Plus is made in the USA using natural, human

grade ingredients that are formulated in an FDA registered

pharmaceutical laboratory.

Veterinarian recommended, NuVet Plus was designed for dogs at
every life stage; from supporting your puppy's maturing
immune system to helping to protect against issues later in life including,
allergies, itching/scratching, hot spots, arthritis, digestive issues,
tear staining, hair loss and more!
---
Is it possible to know how big a puppy will get?

My answer is "NO"

If a breeder tells you they can ... They can only give a probability guess

Puppies in Picture

Brown Puppy born 7.2 oz Adult weight 4 3/4 lbs

Black puppy top left born 5.2 oz Adult weight 6 1/2 lbs

Black puppy top right born at 5.2 oz Adult weight 4 lbs
What's it cost to whelp a litter and Why does a puppy cost so much?
A lot of facts about the Cost of whelping a Litter.... with a little Humor
---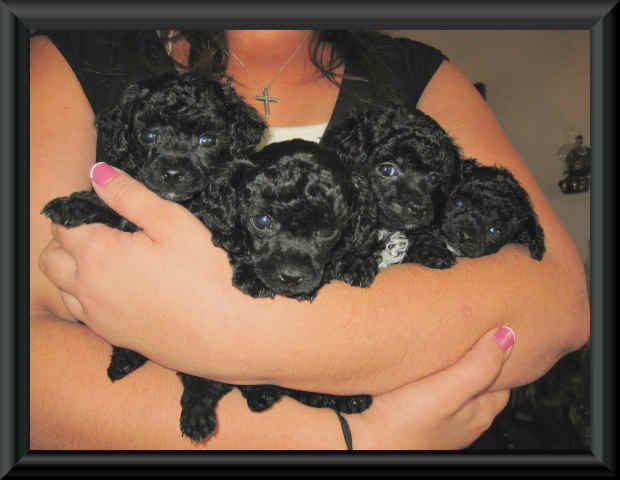 Wind Song Poodle Puppies
Our Dam's and Sire's are bred based on personalities,
colors and confirmation.
Our Goal is a Healthy, Happy Puppy.
All puppies receive our New Puppy Package.
Package includes: Nap Mat, Toy, Puppy Blanket,
and Purina Pro Plan Puppy Starter Kit
Helpful Tips and Suggestions
Potty Training - First Nights - Do's and Don'ts
Feeding, Health Issues, Puppy Care
---
Poodle Misconceptions
YES....Parti-colored or Phantom colored are recognized and accepted by AKC
But they do not meet "Show Quality Standards"
AKC Toy Poodle Show Quality Standards
THE TERMS.... Teacup, Tiny Toy and Runts are used by Breeders and Owners
to describe a size of a Poodle.
Teacups do not fit in teacups and runts are not the small, sickly puppies of a litter.
A "Runt" is just the smallest born in the litter.
History and Facts of the Poodle Breed
Is it FACT or FICTION
Mixed breed Mutts are healthier then purebreds?
Veterinarian Speaks Out
"Adorable mixed breeds" get cancer, epilepsy, allergies,
heart disease, and orthopedic problems just like purebreds.
I see it every day in my veterinary practice but mixed breed
dogs are not tracked like the purebreds so they have a reputation as
"healthier" that is actually undeserved in many cases.
---
Top Three Reasons People Choose Poodles
Highly Intelligent

Very Low Pet Dander - Tolerable to most with allergies

Very Minimal Shedding - Comparative to people
What is Teacup and Tiny Toy?
Teacup is the name given by breeders to describe an
extremely small toy poodle - so there is no universal standard
regarding size. It is generally agreed that a fully grown Teacup poodle
should weigh 4lbs or less and be less than 8 inches tall.
Tiny Toy is a term used by breeders to describe a Toy Poodle
that weighs between 4 and 6 lbs.
Important Information to know about
Teacups and should be kept in mind with Tiny Toys Too:
Contact
Jude at 440-413-2793
Copyright © Wind Song Poodles. All Rights Reserved.