Last Updated: 12/22/22

Jude Iaconianni

AKC Breeder
Obedience Trainer
Veterinary Technician
Corrective Trainer
Pet Groomer
AKC CGC Evaluator
AKC Canine Ambassador
Fear Free Professional
Available Puppies
Boys 0 Girls 0

---
Pricing / Shipping
Our Guarantee




Wind Song Poodles
Northeastern Ohio


At Wind Song Poodles we take pride in

all we do. Frequently visiting Schools,

Nursing Homes, Rehab Centers and many

other facilities offering our knowledge about

the breed, training tips and the

responsibilities of pet ownership.

Puppies are born and raised in our home and

registered with AKC. There are many topics

covered on our web site to help answer all of

your poodle questions. We hope you find our

web site informative and enjoyable

(Visit the Poodle Palace)
---
Wind Song Breeding Program

We DO NOT cut corners with our breeding program. Our program starts

with complete healthy diet. Our puppies receive health checks ,

tail docking, dewclaw removal and vaccines by a

Licensed Veterinarian.

Our Goal is a Healthy Puppy

Not how many we can make and how cheap we can do it.
Frequently Asked Questions

Why is it so hard to find Breeders?

Why do puppies cost so much?

Cost and Process of a litter
---
Litters Born November 2022


Litter Born November 19, 2022
1 Girl

SOLD




PUPPY WEBCAM



Litter Born November 6, 2022
2 Boys
Black Male SOLD
Phantom Male SOLD


---
CHECK OUT THIS VIDEO CLIP

Dakota and Keno's little boy

at 3 Months Old

"LOUIS...Rockin it out with his Trainer"

Special Thanks to Louis owner Lisa for

sharing this Video Clip

I breed for Quality

NOT Quantity
---
Is it possible to know how big a puppy will get?

My answer is "NO"

If a breeder tells you they can ... They can only give a probability guess

Puppies in Picture

Brown Puppy born 7.2 oz Adult weight 4 3/4 lbs

Black puppy top left born 5.2 oz Adult weight 6 1/2 lbs

Black puppy top right born at 5.2 oz Adult weight 4 lbs
What's it cost to whelp a litter and Why does a puppy cost so much?
A lot of facts about the Cost of whelping a Litter.... with a little Humor
---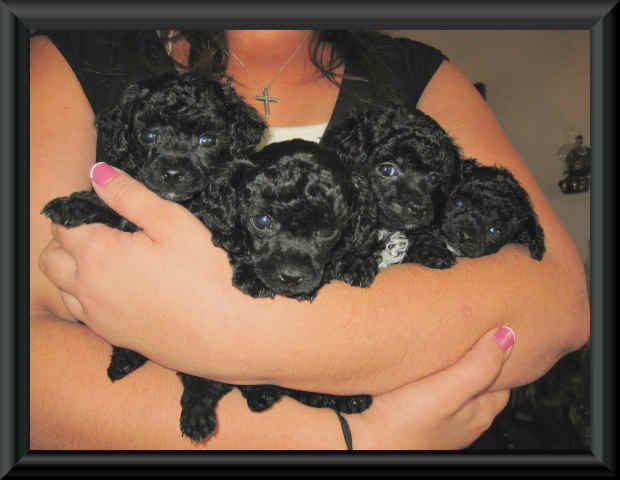 Wind Song Poodle Puppies
Our Dam's and Sire's are bred based on personalities,
colors and confirmation.
Our Goal is a Healthy, Happy Puppy.
All puppies receive our New Puppy Package.
Package includes: Nap Mat, Toy, Puppy Blanket,
and Purina Pro Plan Puppy Starter Kit
Helpful Tips and Suggestions
Potty Training - First Nights - Do's and Don'ts
Feeding, Health Issues, Puppy Care
---
Poodle Misconceptions

YES....Parti-colored or Phantom colored are recognized and accepted

by AKC But they do not meet "Show Quality Standards"

AKC Toy Poodle Show Quality Standards

THE TERMS.... Teacup, Tiny Toy and Runts are used by Breeders and

Owners to describe a size of a Poodle.

Teacups do not fit in teacups and runts are not the small, sickly

puppies of a litter.

A "Runt" is just the smallest born in the litter.
History and Facts of the Poodle Breed

Is it FACT or FICTION

Mixed breed Mutts are healthier then purebreds?

Veterinarian Speaks Out

"Adorable mixed breeds" get cancer, epilepsy, allergies,

heart disease, and orthopedic problems just like purebreds.

I see it every day in my veterinary practice but mixed breed

dogs are not tracked like the purebreds so they have a reputation

as "healthier" that is actually undeserved in many cases.

I have used with success
FOR-BID




Why Do Dog's Eat Poop?


Eating of fresh stools is a reflection of an innate predisposition of
ancestral canids living in nature that protects the pack members from
intestinal parasites present in feces that could occasionally be dropped
in the den/rest area.



Translation......"It's in a Dogs DNA to eat poop"



Dogs evolved as scavengers, eating whatever they found on the
ground or in the trash heap and is thought to be one of several
appetitive survival behaviors that have evolved to cope with the
periodic adversities of starvation.
Read More
---
Top Three Reasons People Choose Poodles
Highly Intelligent

Very Low Pet Dander - Tolerable to most with allergies

Very Minimal Shedding - Comparative to people
What is Teacup and Tiny Toy?
Teacup is the name given by breeders to describe an
extremely small toy poodle - so there is no universal standard
regarding size. It is generally agreed that a fully grown Teacup poodle
should weigh 4lbs or less and be less than 8 inches tall.
Tiny Toy is a term used by breeders to describe a Toy Poodle
that weighs between 4 and 6 lbs.
Important Information to know about
Teacups and should be kept in mind with Tiny Toys Too:
Contact
440-413-2793
Copyright © Wind Song Poodles. All Rights Reserved.